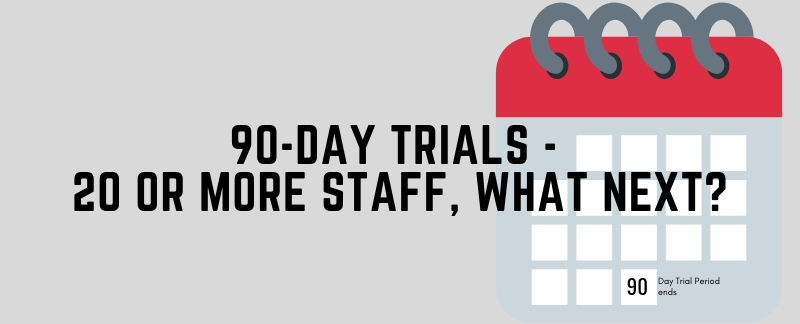 We all wait in anticipation as it is now only a day from the Select Committee reporting back on a bill to bring an end to the current 90-day trial period, with the exception of businesses with fewer than twenty employees.
If you are an employer of twenty or more employees and are currently using the 90-day trial period, it is time to start thinking about what this change will mean for you.  This change is likely to be implemented by the end of 2018.
Many businesses have found the 90-day trial period an invaluable inclusion in a new employee's employment agreement.  If the ability to apply this is removed, where do we go from here?  There is some good news for employers with 19 employees or less, the trial periods can still be included in employment agreements which will allow you to continue to rely on the provision as a safety net when you recruit new employees.  Conversely, under the Bill, employers with 20 employees or more will lose the right to include 90-day trial periods in employment agreements.
That said, employers will still have the option of including probationary clauses in their employment agreements.  Be aware that a distinguishing feature of probationary clauses is the ability for employees to raise a personal grievance for unjustified dismissal (and for other reasons).  In addition, employers using a probationary period have an obligation to give reasons for termination of an employee's employment.  It is much less of a safety net and requires a clear, concise process around this to ensure that employers do not fall foul in respect of this process.
During a probationary period, an employer must do the following:
inform employees if there are any issues
explain that their ongoing employment is in jeopardy if required standards are not met 
outline where the employee is falling short
explain what good performance looks like
offer appropriate support and training
give the employee the opportunity to perform to required standards 
Sound like more work than is required during 90-day trial period?  It certainly is, but it can also be a valuable provision. 
As a result of these likely changes we encourage you to start thinking about what they will mean for your business, your employee numbers and projected numbers, and whether you will consider a probationary period for future agreements. 
For any advice on where to from here for your business, please get in touch with a member of the team from Grow HR and we can advise specific to your business requirements.